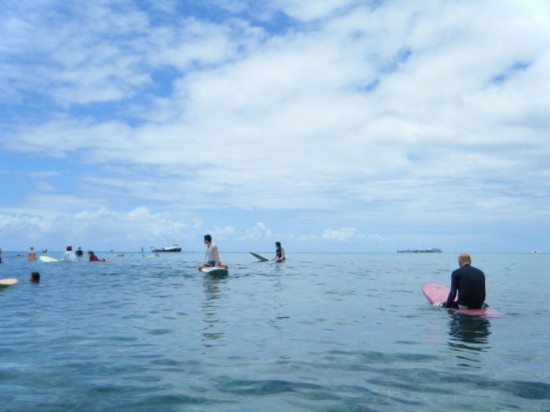 The typhoon passed by the islands bringing some rain showers but no extra swell. The lulls between sets weren't quite as long as yesterday. We headed for a breaking spot (left tower) at the beginning. Max caught a nice one pretty quickly when the set came in. I was a bit too far right to catch it. Later, we shifted farther right and I caught a short fast one, while Max got some great rights and lefts. At the end, I was finally in the spot to catch the deepest wave going right and as it came, three of us paddled for it, but out of nowhere, a newbie surfer was laying horizontal on his soft-top in front of the entire lineup. He didn't make any attempt to paddle out of the way and I didn't have time to turn to dodge him, especially since there were two guys to either side of me, so my board ran right over his, whacking my side fin out of the plug and through the top of the board. Yeah. &*$!@ It's actually Max's old 9'6 from the North Shore but I had been enjoying riding it.
On the upside, I was already planning to buy a new board while here and had found one yesterday at Koa, a 10′ orange longboard with lots of rocker. Got it today since it was on sale along with a white 9.5″ single fin (made by Hawaiian Pro Designs). Can't wait to try the new board tomorrow. We also had the pleasure of meeting Donald Takayama, the 5 time US Surfing Champion and shaper of over 55 years. He randomly came into Koa while we were there and just after buying his Hawaiian Pro Design fin. He was friendly and in great shape.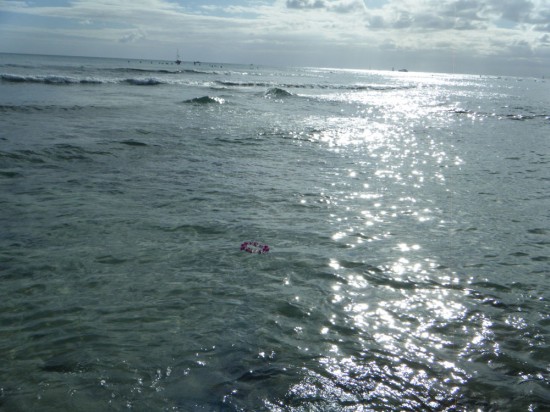 Today, while her family and friends held a paddle out in Half Moon Bay, we honored the life of Beth Kilpatrick, our friend Luke's wife who passed away suddenly last week, with a purple lei. Rest in paradise.
#106 / 11:30am
[REGIONAL SUMMARY: Dropping SSW swell is smaller than yesterday but still providing ride-able surf for southern shores today. Most spots still have waves in the knee to waist high range with some slightly larger sets at channel entrances. Moderate trade winds will provide nice offshore conditions for town shorelines and side shore choppy conditions for SE facing shores.]