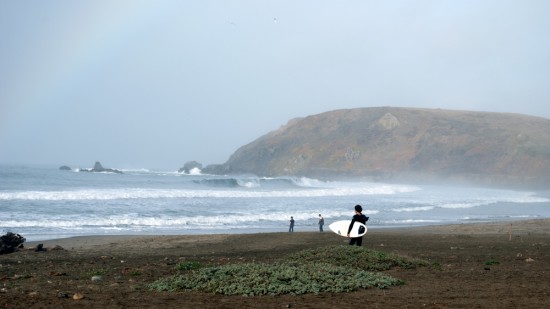 Arrived in Pacifica under overcast skies, fog and bits of drizzling rain. As soon as we got out of the jeep, a full rainbow appeared.
Big sets were rolling through and hitting the rocks on the outside of the north end. There were even waves breaking farther out past the rocks. From the parking lot you could see whitecaps all the way out at Pedro Point. While suiting up, I saw some shortboarders ripping it up on the south end. That's a good sign that the swell is sizable. Last year I probably wouldn't have paddled out but I figured I could at least make it to the outside and reassess. Max remains on no-paddling doctor orders, so he headed towards the inside near the middle while I walked down the beach to the far south end to paddle out. In between sets, the ocean was deceptively calm. It felt warmer today, probably because of the fog and the lack of wind. On the outside, the lineup was pretty mixed between longboarders and shortboarders. I sat farther left and watched a set roll through. Big and steep, the first two waves pretty much wiped everyone out, except one guy who looked like he made the drop before disappearing out of my view behind the wave. I was sitting farther out when I recognized Thomas Meyerhoffer, creator of beautiful, minimalist, creative surfboards. I said hello and we chatted for a few. He was mellow and friendly and offered to let me demo one of his boards sometime if I was interested. A few minutes later, the next set approached and he paddled for the first big wave. Three of us watched him vanish behind the spray wondering if he had been crushed. He paddled back out within what seemed like seconds, smiling and saying he had made it. Awesome.
Eventually I found some rhythm and paddled for a set wave which sent me shooting forward so fast that I didn't have time to popup. I held onto the rail for a couple of seconds until I was able to pop to my feet and ride it out. Stoked! Later on the way in, I went for a medium-sized wave, mistimed it and tumbled under somersaulting forward, then sideways, then finally came up. Both the ride and the wipeout were memorable, but mostly I'm psyched I paddled out in bigger than usual conditions.
It's only going to get bigger from here. The forecast for Thursday is 43 feet in San Mateo County. No, that's not a typo!
Photos below of some smaller waves at the middle of the beach before we went out.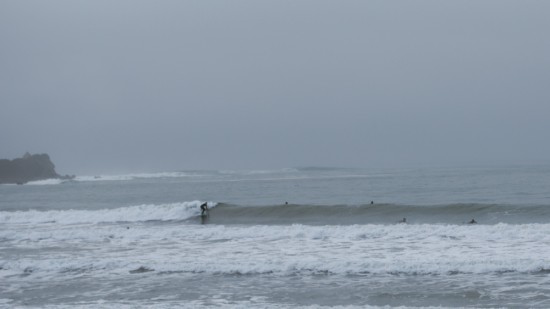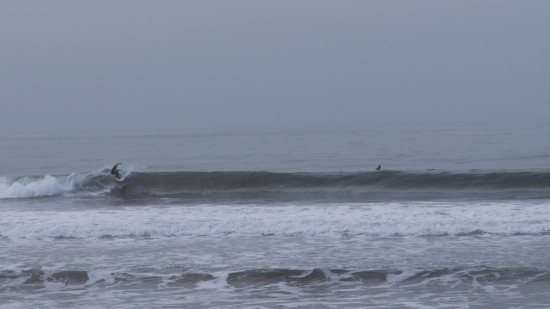 #145 / 3pm
[4-7 ft shoulder high to 2 ft. overhead occ. 7 ft. POOR TO FAIR CONDITIONS. Afternoon Update: No visual through the fog right now. Expect mostly clean but also mostly walled lines going a couple to a few feet overhead on sets.]