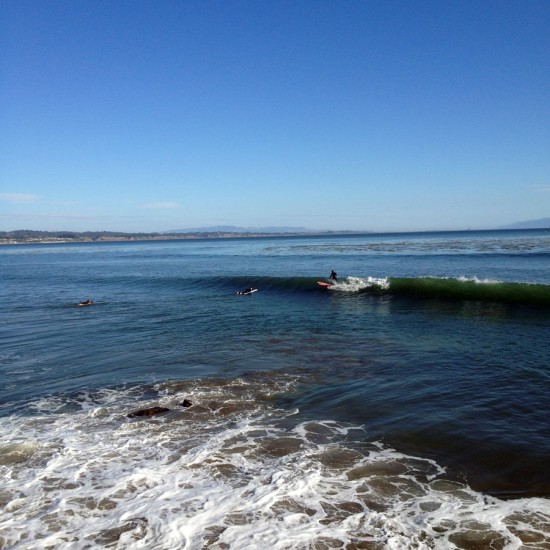 The first SSW swell of the season here in SC has been nothing short of awesome. It's also been a slight tease as we were busy with work two weeks ago, had an amazing time last weekend with my visiting parents, then had another busy week of work. Today was the day, though, and we knew we had to get back in the water. We finally got a chance to ride our cruisers down to the beach with our shorter boards on our surf racks (Max took his Firewire). The Mermaid Triathlon was happening at the Esplanade so we knew there wouldn't be any parking. Luckily there was still swell even as it neared high tide in the afternoon. We saw a weekend group of surfers in the lineup and lines rolling in from the kelp and knew it was going to be good. It was the first time I was on my 7'3″ superfish since the eyebrow incident more than a year ago. It's been all 9′ HP1 since then. The Superfish felt so tiny and it barely seemed like I was moving when paddling. I hung out on the far shoulder for a set to get used to it and to watch the impressive perfection of the lines that rolled in.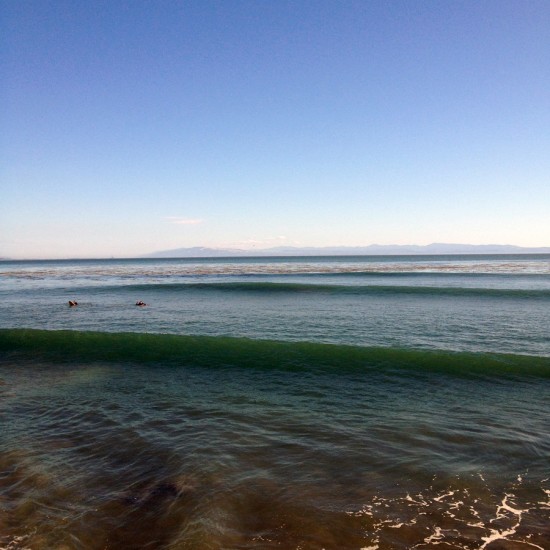 We've been seeing the bigger waves of this SSW in all conditions during drive-bys. Last weekend while having dinner with my folks, it looked huge and fast from the beach, heavy marine layer and surfers at multiple spots from 1st jetty to 2nd, all the way down farther south than I've seen ever seen it. Waves were HH and just nonstop. Surfers everywhere hustling and paddling. Everything looked faster than before. Then before we went to dinner on Sunday, Max saw that it was barreling by the pier on the cam. Just like Greg and Rick said it would.
Today it was smaller but the peak still swelled over 5′ as it approached. The guy on the red longboard (who looked like a relative of Veen) was catching the deepest and biggest waves of the set and doing smooth turns down the line. At first, I was wishing I had my HP1 as I knew I could've gotten more waves from the outside. There were long lulls between sets but they still came with regularity. After trying for a few but being too far on the shoulder, I paddled over to line up a bit closer in and near the rocks. Saw a decent wave coming and paddled for it, felt it catch and was so excited to pop up I shouted "yeah!" unknowingly. A couple up on the esplanade yelled "woo!". I was giddy like a kid. So thrilled to catch a wave on that 7'3, which felt fast as a quad, in spite of my initial shakiness. Got the next first wave of the set in that spot before we headed in. Fast and fun, with a workout paddling back out through the set. So psyched to catch two rides on this board! By the end, I was really liking it and think I'm going to take it out again tomorrow at low tide and see how it is. Also shared the break with a sea otter who was just several feet away – on his back and thumping on his chest.
#182 / 1pm / Superfish 7.3
[REGIONAL SUMMARY: Holding SSW swell is offering waves mainly around the waist-chest high zone for the better exposed breaks. Standout spots are producing occasional sets up around shoulder-head high. Meanwhile, minimal WNW swell mixes in. Surface conditions are clean across the region this morning. We're hanging around a mid-high tide right now.]
3ft @ 13s from SSW (198)
1ft @ 13s from WNW (288)