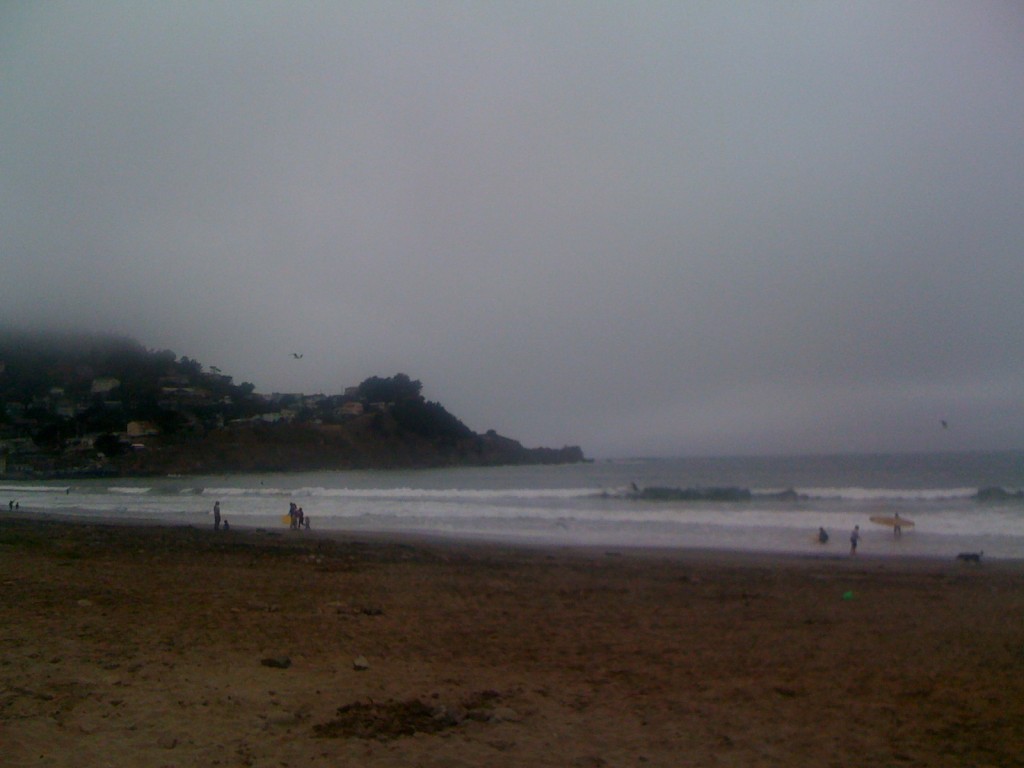 After taking five surf lessons on Oahu, Hawaii, last month, Max and I decided it was time to surf some local Northern California breaks. We took our first lesson at Linda Mar beach in Pacifica with Adventure Out. There were 8 or so other people taking the group lesson at 12:30. We met up in the south end of the parking lot and the instructors (Alan, Brittney, Matt) got our release forms, then sized us for wetsuits, which were still wet from the morning lesson. We picked left and right booties out of a big pile. After getting rid of car keys, we headed down to the beach for a land lesson. Alan did some quick intros and gave us a quick lesson in safety. We practiced popping up on our 9′ foamies on the beach. I still had the recent surf trip to Hawaii in my memory so popping up was pretty easy.
I didn't notice the cold water (30 degree difference between here vs. Hawaii) as much as I thought I would thanks to the 4/3mm wetsuit and booties. The conditions were super choppy and the whitewater zone was pretty rough. As we found out later, it turns out there was a pretty big swell that day. For me, the waves were so much faster but shorter than Hawaii, and the chop/break so much more dense and hard to get through. Luckily, I stood up on a whitewater wave my first attempt and zoomed towards the beach! I caught two more later on, and pearled hard on another one. The rest of the time was spent standing up and battling through the break zone with the foamie long board. This was a huge difference for me after the reef breaks in Hawaii, where you don't stand up in the water holding your board at all.
Several of the people taking the lesson were wiped out, really tired and sat on the beach looking kind of miserable. I don't think these were really beginner conditions but I guess the instructors thought it was fine.
The waves and everything about the beach was so different than what I've surfed up until now, but the stoke at catching waves was the same. Tired out by the conditions, but definitely into it. We'll be back for more!
#10 / 12:00 pm