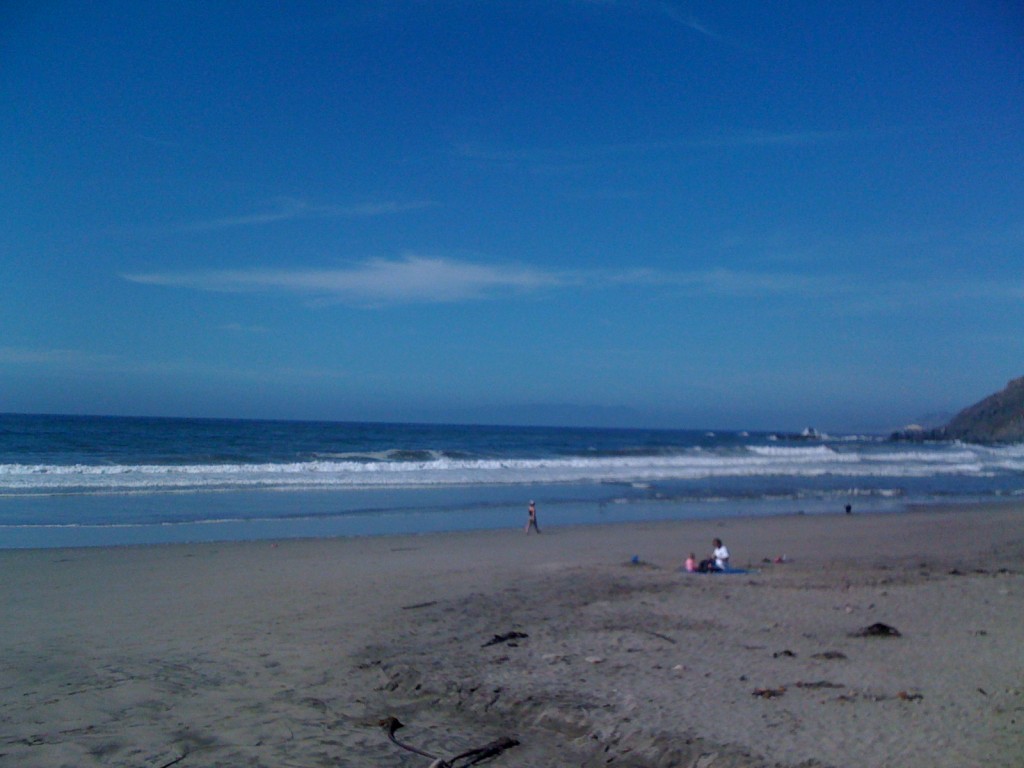 Did a bunch of design/dev work in the morning and then we headed out for LM in the afternoon. Quite warm today and sunny, though by the time we were on highway 1, we could see the fog rolling in.
We were expecting a normal day, but when we got there the waves were rolling in with multiple sets. Even though it was low tide, the sets were getting bigger. Decided to try the southern end of the beach (across from TB). Went out as usual and noticed it was much more choppy than I originally thought. After only a few minutes, I went for a wave and got thrown off unexpectedly. I went under water to make sure my board was out of the way, and saw it to the left of me so I stood up and in a split second, the next wave lifted my board and it flew right into my face, hitting me on the left cheek, right below my eye. The hit was pretty hard and I could feel the pain immediately. Got out of the water, sat on the beach, looked for Max. I could already feel my face swelling up and see it in my peripheral vision. I knew I needed ice fast! I asked the woman/guy next to me to get my key out of my wetsuit back pocket (need to get a neckstring for the key so I can get it easily). He asked if I felt dizzy. Then he said, "yeah, you're getting the bump!" and pointed below my eye. He mentioned that he had stitches 3 times (yikes). I could feel the area below my eye swelling up as I walked to the car. Put my board in the jeep, grabbed an icepack from our cooler just in time to see Max on the beach looking for me. Kept ice on it to keep the swelling down. Later as we sat in the Jeep, another surfer walked by, saw me holding the ice pack and said, "bummer," with a knowing nod.
Ever since I started surfing at LM, I've been really conscious of where my board is at all times and if I wipe out, never let it out of my sight. Except this time ;) Max also took a hard tumble on a wave that closed out suddenly, plunging the nose of his board straight down and dropping him head-first into the sand. OW. His head still hurt tonight. Hopefully, it won't be as bad by tomorrow.
All in all, an unexpectedly rough day out at LM. I probably should have double-checked the forecast on my phone and known a swell was coming in at low tide, making conditions sketchy with lots of hard closeouts. Lesson learned!
#25 / 3:30 pm
[3-4 ft. + waist to shoulder high and poor-fair conditions.
PM REGIONAL OVERVIEW: WNW/NW swell mix is on the rise this afternoon as old SW swell lingers. Better exposures have shoulder-head high+ surf, while standout spots are pulling in some occasional overhead+ sets at times. Conditions remain fairly jumbled and bumpy however, with only occasional semi-rideable corners on offer at most spots.]
[Lee's meal early on, Evol bean burrito, banana. After, TB.]