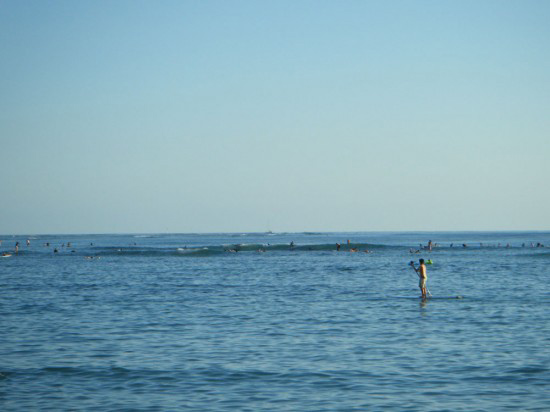 Yesterday, we took a forced day off since it was completely flat here on the South Shore. We considered going up to the North Shore for the day but as it turned out, all the car rentals were overbooked due to the holidays. Then we ran into Buster, one of the bellmen here at the hotel, who told us his friend was flying in from the Big Island for the SW swell, which was supposed to start today, Wed afternoon. We had checked the forecast and knew there was going to be a nice swell for Christmas on Thursday and Friday, but it was great to hear from him that Wed was picking up as well. He was right-on, as today proved to be a sweet day of surfing with nice sets rolling in both at Queens and Canoes. While the waves weren't huge by North Shore or NorCal standards, they were bigger than previous days and the sets had more waves per set than any other time I've surfed here in Waikiki.
The day was gorgeous with a perfect 80 degrees and sunny. Light winds added a little chop to the water, but not too much. We headed out after a power-up meal at Lulu's. The crowds were out and like usual, it was a mix of locals on the outside, and instructors and beginners on the inside. We paddled out and debated surfing Queens versus Canoes. After watching for a bit, it seemed Canoes had more sets coming in faster and more variety. After the last session, I had switched my board back to the 2+1 setup (after ditching the single fin experiment) and was feeling confident paddling out with the control I'm used to. My board felt smooth and fast again! I made the conscious decision to focus on getting into position and to wait for the right wave of the set to take off.
It's kind of a blur now as I'm writing it hours later, but I got some of my best rides ever today. So stoked to have gotten four solid rides. Two of the waves I got were definitely the fastest and longest I've surfed here. Max and I sat on the outside and waited along with everyone else for the sets to roll in. On one of them, we waited a good 30 minutes but when the next set came, it was perfect. I waited for the second wave of the set, paddled easily into it at an angle, caught the peak at the right moment, popped up, crouched down, bypassed everyone around me, and rode it all the way to the inside, turning my board to avoid two other surfers that were paddling out through the zone. When I eased down on my board and turned around, I got a nice head-nod from one of the local instructors. We stayed out for almost three hours. Can't wait to head out again tomorrow!
[flickrvideo]http://www.flickr.com/photos/emilychang/4210748678/[/flickrvideo]
#38 / 11:30 am
[1-2 feet; Beautiful December morning with really not much surf to speak of. Most spots have tiny waves in the ankle to shin high range with a few larger sets primarily in the Diamond Head area. Light tradewinds are blowing to provide nice offshore conditions for southern shorelines and beautiful sunny weather.]
[Tofu benedict, potatoes, fruit; veggie Puka dog, pasta after]