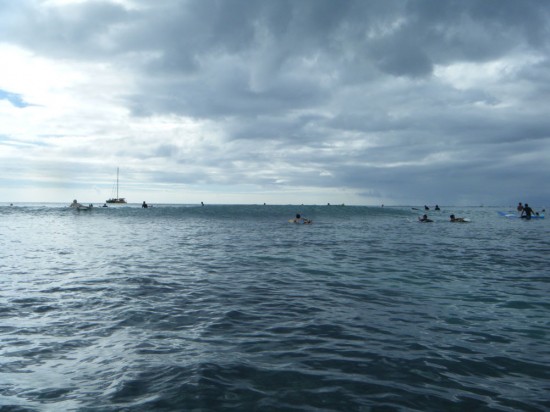 The awesome SSW continues, increasing over the night just in time for today's very merry Christmas surf session. Today was mostly overcast with some rain showers here and there, and it was an unexpectedly pleasant change to not have the glare of the full Hawaiian sun hitting the water. I wore my new 1mm shorty Excel neoprene top for the first time and it was comfortable and great for cutting the chill of the wind when you're sitting on your board in between sets.
There were tons of people out today and lots of newbies out with soft-tops and rental boards for the Christmas holiday. When we looked out from the beach, it was a sea of little black specks of people on every breaking wave, both sitting on the outside and getting whitewater on the inside. The center spots were covered with instructors pushing students off on little peaks. Even by the afternoon, the conditions were pretty good with lots of rideable waves rolling through. I caught about five great waves today! The first one was short but I definitely felt myself making the couple of foot drop down the face. Staying mostly near the second break on the outside, I had one ride that went almost all the way to the beach. I also managed to pull of an S-turn through two different surfers paddling out directly in my line. Despite the freaked out look on on girl's face as I headed straight towards her, I turned to the right in time to swoosh around her and then to the left to avoid the next surfer. It was the first time I've done that type of turn, and it felt intuitive.
[flickrvideo]http://www.flickr.com/photos/emilychang/4215450378[/flickrvideo]
I paddled out today feeling a bit sentimental that this was our last surf session of what's been a phenomenal, rejuvenating surf trip. To have been able to surf every day in Hawaii (except one travel day, one sick day and one day off) for the past 16 days has been incredible. I feel so much more knowledgeable, more fit, more confident, and overall, much more at peace with myself and my surfing. I can't wait to get home to SF and head down to Half Moon Bay and really get good at surfing the Jetty. While surfing Pacifica's Linda Mar (LM) for a couple of months, I had the chance to work on the basics, get water time, and get much-needed experience in the ocean. I'll always regard LM as crucial in my overall surf experience with its inconsistent conditions always keeping you alert. But now, after this intense surf time in Hawaii, I'm ready to focus on new goals and perhaps, travel the extra distance to try out the more consistent break at the Jetty.
After my paddle in from Canoes, I turned and looked out at the ocean and said a little aloha and mahalo. Tonight after dinner, we stopped by and bought two purple orchid leis – one that Max draped around the arm of Duke's statue near the beach; and the second for Prince Kuhio, who we walked by with our boards every day on our way to the break. Hawaii has always had a special place in my heart, since I first visited Maui when I was 13, to our first trip to the North Shore in 2007, our many subsequent trips to Honolulu, my family's Christmases on Big Island and Kauai, to our wedding on Oahu six months ago. This trip has been my first all-surf trip and I can't wait to come back. A hui hou!
#40 / 2 pm
[2-3 ft + knee to chest high occ. 4 ft. – Merry Christmas for all the townies as Santa has served up another out of season swell for southern shorelines. Waves are in the knee to waist high range with some chest to shoulder high sets rolling in at select locations. Light tradewinds are blowing to provide ideal side to offshore conditions for southern shorelines.]
[Bean tacos, Clif bar before; vegetarian rollo at La Cucharacha after]