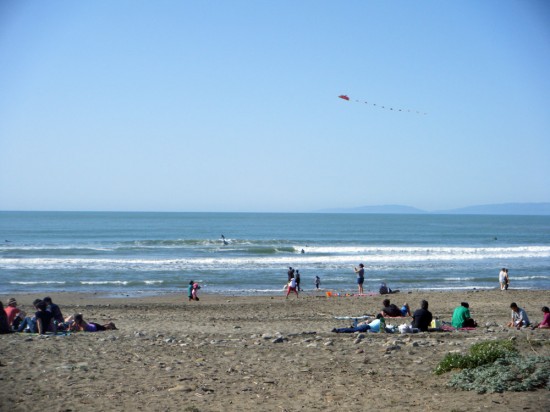 Surf conditions weren't supposed to be ideal today at LM, but it was a gorgeous sunny Saturday and after checking the Surfline HD cam, it looked decent enough and not crowded for a weekend day. We got there about an hour after low-tide so it was fairly shallow near the beach, but once we paddled to the outside, the sets were pretty awesome. I caught two long rides in from the outside and another couple near the inside.
It was the first day I wore my Gath helmet over my hood. In theory, I'd love to just surf without any headgear but the hood has made a huge difference this winter for warmth and keeping my hair out of my eyes. The truth is that I never notice my gear when I'm surfing – the hood, gloves, booties, ear plugs (don't ever want to get surfer's ear, ew) – they just fade into the background.
I've been hesitant to wear a helmet (even after the face-bonk incident), just because it seems unnecessary most days. But the reality is that anything can happen at any time: someone else's board to your head; your own board to your head if you wipe-out; rocks in shallow water, etc. Why take the risk? As with the other gear, I stopped noticing the helmet as soon as I paddled out. The only difference was the subconscious boost in confidence that it gave me, knowing that I could actually take more risk, be more bold if I chose and go for waves that I might have waited through previously.
Pano photo of the beach. Click for larger view.


The only bummer to the day was Max's fin getting whacked off by a rock during a ride into the beach. He said he heard a "thunk" and when he got off and turned his board over, sure enough, the fin was gone. He searched for it underwater but couldn't find it. Luckily, he had break-aways so the fin box wasn't damaged. Later, we stopped by the Log Shop to look for a new fin since Sonlight was already closed. The kid working there said he would keep his eyes out for Max's bright green Island Fin when he goes fishing near the same spot on the south end of the beach. It would be one of those karmic acts of the universe if he finds it and calls!
#47 / 3:20 pm
[Surfline: 3-4 ft + waist to shoulder high occ. 5 ft. PM REGIONAL OVERVIEW: Clean, workable chest-head high waves on tap this afternoon. Wind is light offshore under sunny skies. Look for the dropping tide to drain things out later this afternoon.]
[Vegan patty sandwich on wheat bagel]