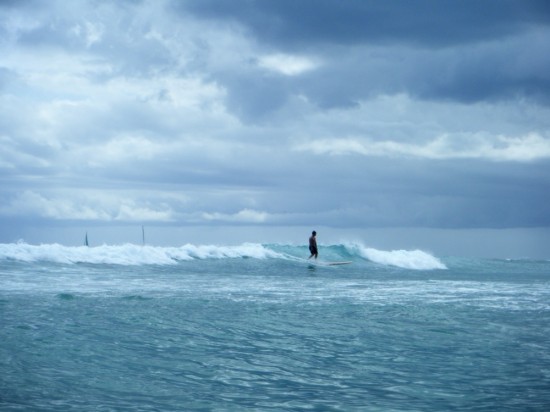 It was a beautiful day and a Monday, so the weekend surf crowds had dispersed and even the beachgoers/tourists were more sparse. I'm having the most amazing time surfing this trip. I've finally evolved from wondering if I can get a wave (at Linda Mar ;) to consistently getting the ones I go for. We did another double sesh at Canoes and between the two, I got 8.5 great rides! I really love this surf spot and the fact that I can tell I'm improving each time I go out.
The first session was closer to high tide so the conditions were a bit sloshy with cross currents. I'm so used to my 9′ Mitsu board by now that I've gotten comfortable with every condition at Canoes and the things that used to be new are now subconscious: dodging people, paddling the distance to the outside, which break is better on any given day, etc.
While Canoes is a beginner break, the outside break is always going off. Even when Surfline is calling for 1-2′ waves at Canoes, the outside is often 3-4′ in reality. If I lived here, I would go every day until I got good enough to do turns and cutbacks on the outside. Today, the sets were just rolling in with 5-7 great waves each time.
During our sunset session, with the tide going from high to low, the waves were perfect and there were only a handful of surfers out. I managed to do another small left top turn on a wave. Tomorrow, I'm going to try a top turn on the outside if the right or left are breaking and it's not too crowded. Also, might head over to Queens tomorrow if it looks good. Stoked!
#60 / 5pm
#59 / 2pm
[2 ft. @ 16 seconds. Light east winds with a slight chop. Small long period swell from the south-southwest. REGIONAL SUMMARY: Looks like town may have actually bumped up just a tad from yesterday. Nothing real big but we are seeing a combo small scale SSE swell and continued trade swell keeping rideable action for southern shorelines today. Most locations have waves in the knee to waist high range with some larger chest high sets mainly at channel entrances. The Kilo Nalu buoy is reading 2.8 feet @ 12.1 seconds…so there is some small SSW swell producing surf today.]
[Vegan burger, sub]