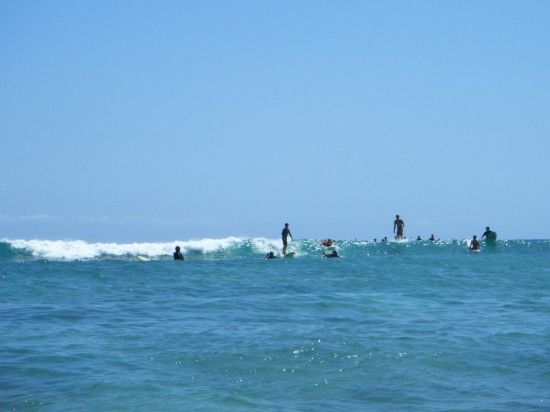 We've been surfing nonstop this trip and it's been incredible in terms of physical fitness, surf skills and the sheer joy of having lots of water time. Today was the last day of our trip and we had to squeeze in another double session. Conditions were smaller today and with the tide rising, we sat on the outside with the group of surfers waiting for sets to come through, which took about 15-20 minutes. I had planned to try some top turns from the outside break but today didn't turn out to be right for that with smaller waves that were coming in straight. I got two great rides in from the second break, after paddling in a bit from the outer one. The inner breaks were more powerful today than at the extreme outside. We took a food break and sat on the grass in front of the hula spot at Kuhio beach park, with the sun blasting and vacationers relaxing and playing in the water. The second session was even better than the first. Tide was dropping and conditions were great. I got another three waves, including a long one where I managed to do a top turn to the left at the end of the ride before sitting back on my board. I shared a long wave with a funny older Hawaiian instructor who was hooting and laughing the whole way. I love a surf break where people aren't taking themselves so seriously, having run and sharing waves without any localism and just spreading the aloha. That's what it's all about, isn't it?
[flickrvideo]http://www.flickr.com/photos/emilychang/4601148708/[/flickrvideo]
We hung out on our boards on the way in chatting about the session, soaking in the sun and warm water and the beauty all around us. Mahalo for another memorable trip and another step up in my surfing experience. I can't wait to come back to Hawaii, a place that feels like home to me. A hui hou!
#62 / 4:30pm
#61 / 2pm
[1-2 ft. Light and variable east winds with smooth seas. Small long period swell from the south-southwest. REGIONAL SUMMARY: Residual SSE swell still keeping some small but rideable waves rolling into southern shorelines today. Nothing real big but we are seeing most locations with waves in the knee to waist high range with some larger chest high sets mainly at channel entrances. The Kilo Nalu buoy is reading 2.8 feet @ 12.1 seconds…so there is some small SSE swell producing surf today. Moderate trades are blowing to provide typical offshore conditions in town and rough sideshore bump for southeast exposures.]
[Lulu breakfast]