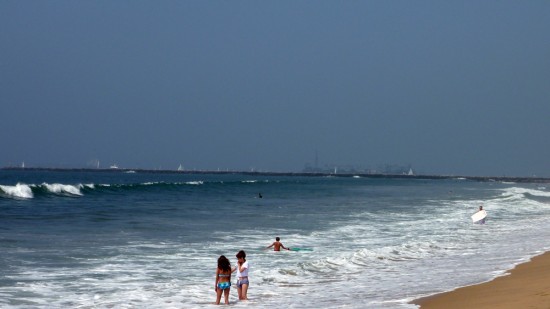 (Photo taken post-surf when the sun came out)
Surfed Seal Beach again this morning under now-familiar overcast skies. Locals are wondering why the weather's been so cool (upper 70s) but for us, it's warm compared to chilly SF. The sun usually comes out by noon and it's perfect. The 3/2 suits are great and I can feel the extra flexibility vs. our usual 4/3 and I haven't surfed with booties until today (toe got scraped on something yesterday so I wanted to protect it). The 60 degree water feels lovely.
It was a smaller group today split up among first-timers and return surfers. Mike Jr. had us on slightly narrower 10′ boards today. After a few rounds of so-so waves, he busted on me for "thinking too much", paddling too much with my shoulders and reaching too far. I finally got what he meant by not using your shoulders and by paddling faster ("More RPM!" he explained). Then I tried to turn off my brain and just go with it. He was right. As soon as I did, I got an awesome left as he shouted "look down the line!" I turned my head/body/board to the left and saw the wave cruising alongside me as I went all the way down the line. In the distance I could hear "woo!" from other surfers hooting for me. After that one, he said "you surf awesome when you're just relaxing. Both of you do." I can't say enough about how great it is to have him as an instructor. He's a rare combination of funny/wacky and totally on point with every student. Not an easy thing to do.
Afterwards, we checked out longboards again at Harbour, Bruce Jones and Katin. I didn't see one that I loved and had the exact right specs for me so I'm going to keep looking.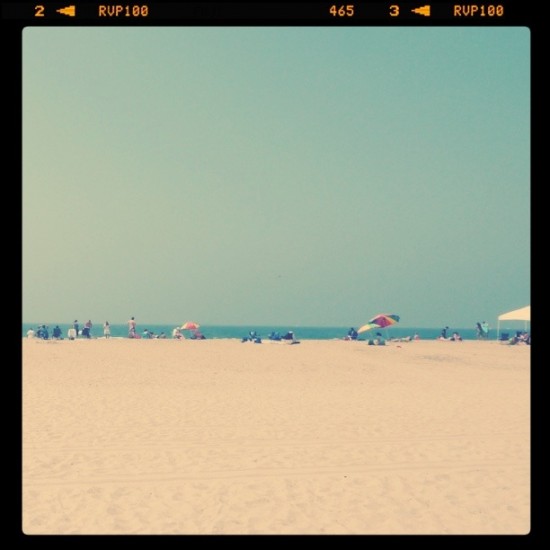 #104 / 8am
[REGIONAL SUMMARY: Fun and workable this morning as SSW(190-200) swell mixes with a small dose of NW windswell. Waist-chest-shouler high surf is common, while the standout exposures see sets around head high. Light wind early.]