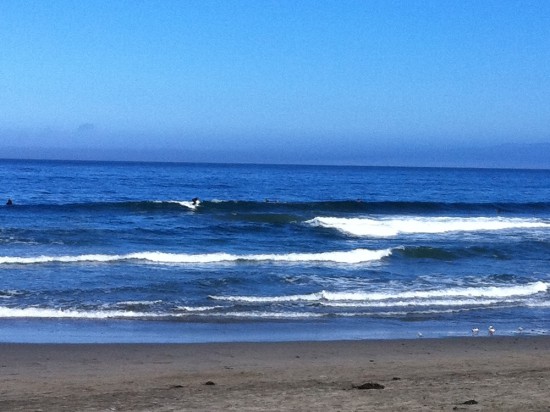 While it wasn't as sizable as yesterday, we had a blast at the south end today. Max and I caught numerous small peelers (last count, 7 fun waves) and enjoyed a peak pretty much all to ourselves other than a friendly shortboarder and his beginner girlfriend, who were more on the inside and left of us. It was full-on sunny and warm again turning the water blue and glassy where we were. It seems that overnight, an entire seabed of kelp had been pushed into the shallows. On a couple of waves that I rode all the way to the inside reforms, I landed in a bed of thick kelp.
After yesterday's more adrenaline-filled sesh, today was a welcome relaxing surf. No giant approaching sets, little chop and no crowds. Max and I would just sit and watch for waves, catch one, paddle back out, chat, catch another one.
Funny how we've been to LM so many times, but the last couple of weeks have been really different. We've met someone new everyday in the lot or in the lineup. Yesterday I had jokingly asked Izzy if he could call us with a surf report in the morning just like he did for Rick, and sure enough, he called this morning with a live report. When we got there we saw him catch a sweet ride that he finished with a headstand. So awesome. Later, he introduced us to Greg, the president of the Pedro Point Surf Club who we've seen numerous times (maroon van, cocker spaniel named Goose). There are a lot of similar connections and affinities despite our generational differences. Greg is friends with the owners of Koa Board Sports where I got my board. He loves surfing Waikiki just like we do and offered us one of their rental condos next time (21st floor on Kalakaua Ave with a view of Canoes!). He's friends with one of the managers at the Waikiki Beach Marriott, our usual hotel. Turns out he also lived in a place literally on the beach in Seal Beach in the 70s and is friends with Rich Harbour, who's made all of his longboards including the one he surfs now. Feeling like the aloha spirit is alive and well!
#116 / 11am
[REGIONAL SUMMARY: We still have some lingering fog along the coast this afternoon but the surf is visible at the moment. Winds are light onshore with fairly clean conditions prevailing as a small to fun size mix of NW and S-SW swells set up mainly knee-waist-chest zone waves.]