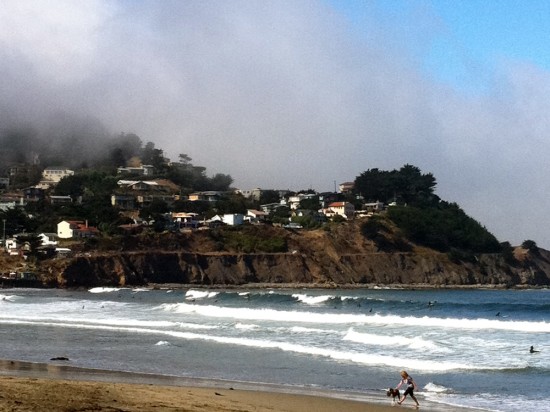 Max and I are on a surf streak. We've adjusted our schedule so we're getting to bed earlier and getting up earlier so we can fit in a surf every morning before we work. It's been simultaneously intense and relaxing. The regular water time has finally started to improve my wave-reading and timing and of course, overall fitness.
This morning, we were anticipating bigger waves with the arrival of the first NW swell of the season. The LM cam is finally back up on Surfline but it was hard to tell when we checked it at home. Looked like a lot of wash and texture.
Izzy called with a surf report when we were already at the break taking photos. He parked in the other lot and was heading out to the extreme south end. As we suited up, we spotted him in the lineup more towards the middle and watched him catch a fast, deep, shoulder-high left. The middle looked like it was closing out and pretty steep so we decided to head to boatdocks. We could see some good sections and fewer closeouts. On the paddle out, Max went towards the middle to say hi to Izzy while I paddled to the south. There were only about five other surfers. Chatted with the guy with the hood that had snuck down the cliff (he lives around the cove). It ended up being a great surf sesh. I managed to find the peak and rode four, fast lefts. The one that stands out was a smooth drop, clean turn and fast left until it faded out and I laid back down on my board with an easy paddle back to the outside. So effortless. Loooove. Another highlight was seeing a seal's little head peaking out in the water about 30 feet on the outside.
We saw Greg on his way in as we headed out, and Rick walked by as we were checking out the south end. Later, we met another surfer because of my Koa board – Kai (from Hawaii, met her husband and moved to SF, has three kids). She's friends with Larry, the owner of Koa and surfed with them at Canoes and Queens. More aloha!
#117 / 11am
[4-7 ft shoulder high to 2 ft. overhead occ. 8 ft. FAIR CONDITIONS. REGIONAL SUMMARY: Still some patchy, dense fog along the coast making for poor visibility in some areas. Solid NW groundswell is building to it's peak this afternoon/evening and providing plenty of head high to double overhead surf at exposures while small S-SW swell mixes in the background. Standout NW spots even see some larger sets at times. Winds are light+ onshore out of the West so expect some surface texture/crumble at the more openly exposed locations.]