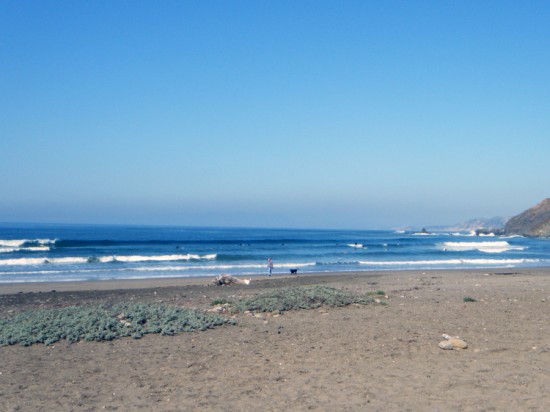 Max and I met up with Cynthia for her birthday surf around noon. We were pleased to see that the weather and waves were better than expected. It was sunny, in the 60s and the swell was starting to fill in while the winds were fairly calm.
We paddled out in front of the pumphouse where the waves were between shoulder and chest-high. I missed a few early on, but later caught a few fun lefts. There was some decent swell power even on the smaller shoulder-high left, allowing me to turn and ride for quite a ways. Fun! The current was pushing us south and we had to keep realigning and paddling north. At one point, Max was farther south and I saw him get a nice long right until he disappeared from the glare of the sun.
The wind and swell started to pick up later on in the session and I got worked on some closeouts as I paddled back out. There was definitely force on set waves. Almost felt like some of the Indian Ocean waves at Legian in Bali last summer.
J-Bird showed up after her meeting and took photos from the beach. We waved to her from far away, then as if on cue a few minutes later, we caught a fun party wave almost all the way in. Stoked that everyone got some waves on a beautiful day. Happy birthday, Cynthia!
#141 / 12:30pm
[3-4 ft. waist to chest high. FAIR CONDITIONS. Afternoon Report: Starting to build and still very clean. Shape is on the walled up side with some corners and will likely worsen through the afternoon as the tide drops and the swell builds.]