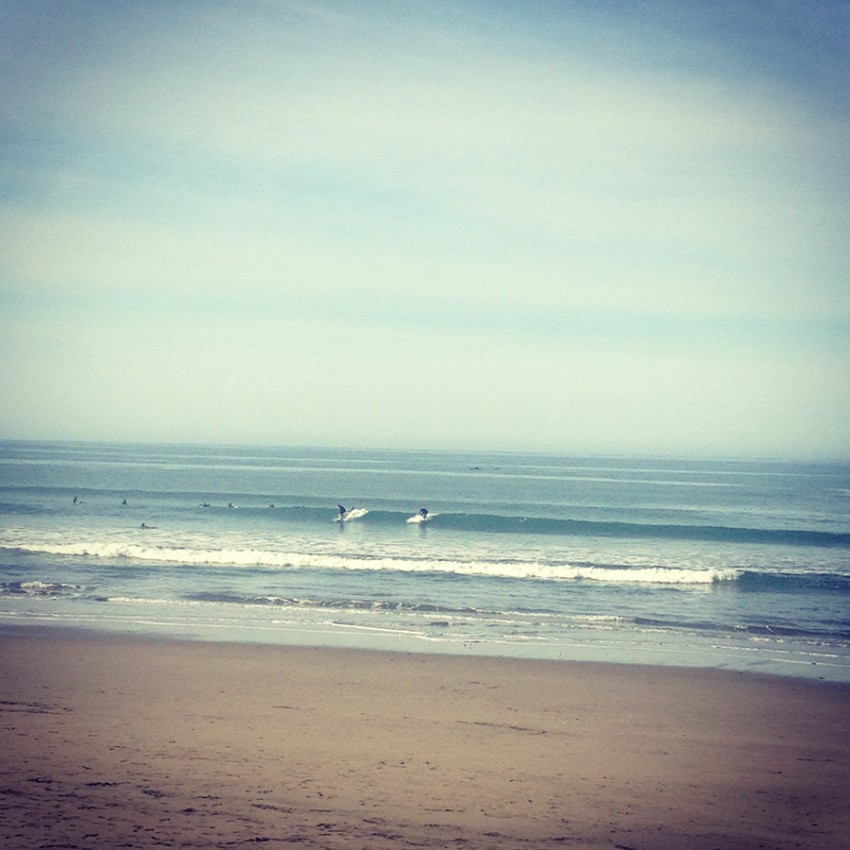 Refreshed. Relaxed. Stoked! That's exactly how I felt after getting back in the water again today after six weeks on land. Max and I both got injured while at Seal Beach in October during one particularly big day with lots of backwash and closeouts. The injuries crept up slowly and hadn't prevented us from surfing or living normally until November. Max's shoulder kept hurting and what he thought was a muscle strain just wasn't recovering. After we saw J-Bird one day and she mentioned that she might have something wrong with her rotator cuff, Max googled it and discovered he had all the rather specific symptoms described. We didn't realize how serious it was until then and found a doctor right away. Turns out Max has multiple injuries (strained rotator cuff muscles, interior fracture of the clavicle, pinched nerve in his neck from some kind of tweak to c4-c7). It took a couple of weeks of MRIs and doctor visits to get the final prognosis for everything. Stressful to say the least. He's had to stay off using his left arm for anything and even then, the pain was mostly constant up until last week. He's been using an ultrasound machine to help heal his clavicle and doing physical therapy for an initial six weeks. Luckily, he found a great orthopedist and physical therapist who are both surfers, so he's in good hands with people who understand the physical as well as the mental.
My injury wasn't as bad, but at some point in November, I started getting shooting sensations and pain near my right wrist. After Max's visit to the doctor, I made an appointment just in case. Turns out I had a wrist/forearm sprain on my right arm. Wore a wrist brace here and there but mostly just didn't use my right arm as much as possible for almost three weeks, except for the necessary computer work. Learning to do everything with my left hand was an eye-opening experience.
Today was a milestone. Getting back in the water after what seems like an eternity was just as great as I thought it would be. My wrist has healed and I could paddle for waves without any issues. Max was able to get his wetsuit and gear on, and sit on his board. His doctor had encouraged him to do it when the conditions were right and I'm elated that everything worked out. It was a sunny Friday, unexpectedly warm with low tide and small conditions for this winter. It was inspiring to be sitting on our boards out in the water again among the waves. Thank you, ocean!
#142 / 1:30pm
[2-3 ft + knee to chest high occ. 4 ft. FAIR CONDITIONS. Afternoon Report: Clean lines with walled up sets and occasional shoulders. Look for increasing swell late today as the new NW swell starts to rapidly build in.]