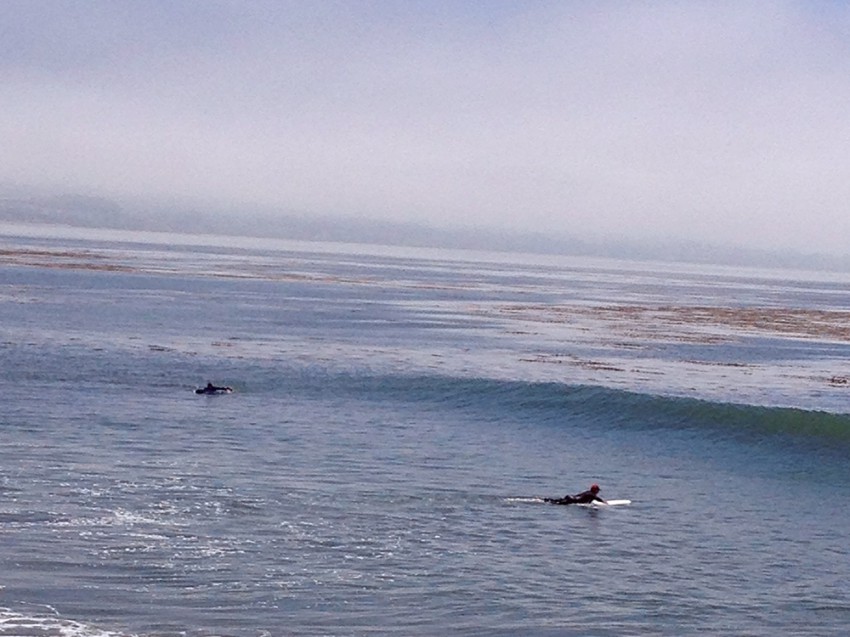 Got in such surf shape and bliss after nine days surfing 2+ hours a day in tropical waters. Didn't have time to surf this week since getting back (need to make thime). Saw that a SSW bump was arriving in Capitola on Saturday @ 15 seconds. Perfect! Arrived a bit later than expected and knew it was over 3′ of tide. On approach of the esplanade for the surf check, I saw a sizable wave rolling in and peaking. Bigger than I expected it to be. I was wishing I'd gotten there earlier as the higher tide sessions haven't been my favorite. Once out in the water, I stopped obsessing over this, especially as I saw Max catch his first of many rides lined up to the outside of 2nd jetty (which was covered by water mostly). He swooped right. Then I got my first wave which came right at me, curving as they do from left to right as it approaches. I paddled twice and caught it right. Almost felt like cheating somehow it was so easy. Love the perfect Capitola waves! Got two really good long ones that steeped up, swooshed in and zipped along. So many fun rides in an hour. Thrilling and fast. The crowd was mellow and weekend-cheerful: one stand out older SUPer who ran to the nose on a perfect right as I paddled back to the lineup after catching one; a couple of shortboarders; several floaties that hung too far on the shoulder.
#243 / 1:15 pm / HP1
2′ @ 15 seconds SSW 207.