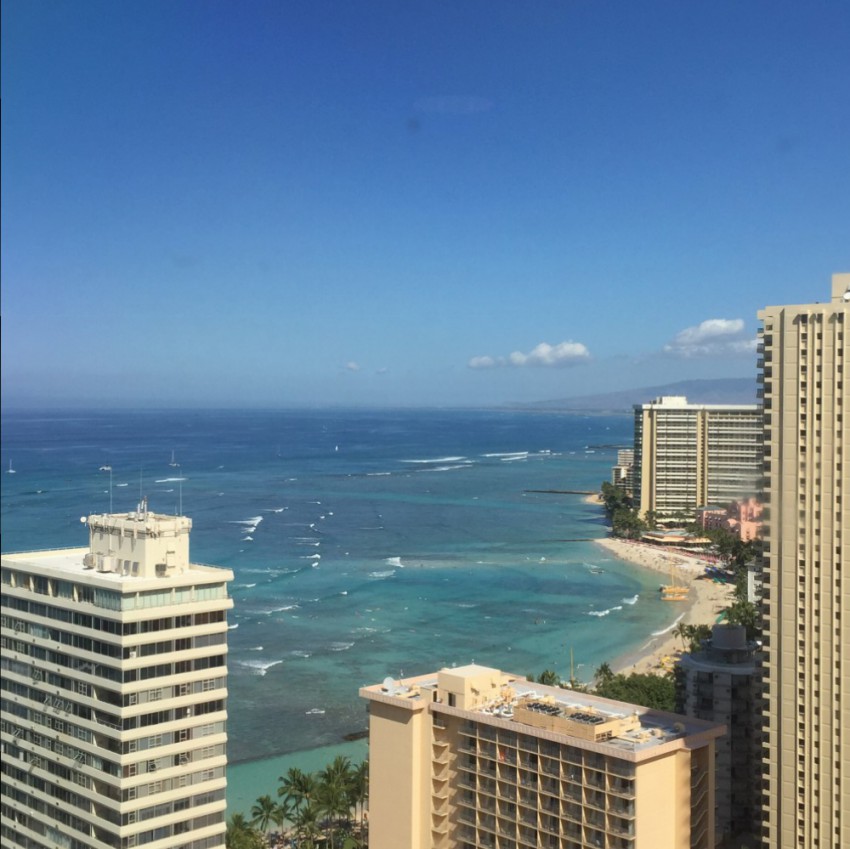 Back in Waikiki! Stoked to be here to catch some of the SW swells that I've been watching on the forecast, especially after not surfing much back home. I've been waiting six months to try out the green 9'1 Mitsu that Max originally bought here in Waikiki way back in 2007 I believe, when Mitsu had a little shop on Kalakaua near First Hawaiian bank. The green Mitsu was Crystal Dzigas' board from when she was a Roxy team rider. To have the board now, paired with the tropical Island Fins that I bought back in January at Koa, was exciting and I couldn't wait to try out my island board! Waves looked fun. Headed out around 11 to our usual left tower spot in the lineup. Started out more inside and took a few waves and wipeouts to get the hang of what was happening. Just having been out of the water for so long, even the ocean felt strange at first – so much movement, so many waves on this little SW swell, such warm tropical blue water. Ahhh. Got two fun reforms and started to get the hang of the board. Then got a sweet, long left that went all the way into the sandy zone. Another was a zippy outside-inside one that I caught and weaved through two inside surfers before going left. Max and I caught a fun, fast wave together near the end of the sesh, with a nice drop. Love this board. Time to go to Aloha Boardshop and see what they have for Max :)
#398 / 10 (1) / 9'1 Mitsu
2-3 ft +- knee to chest high
FAIR TO GOOD CONDITIONS
Aloha, this is Kekoa with the report for Tuesday morning.
South Shore Morning Report: Reinforcement out of the SSW direction is providing town shorelines with some rippable surf this morning and very light wind conditions on offer. Surf is in the waist high range with some slightly larger sets up to chest high favoring the channel entrances. Check our short term forecast to see what the waves will be doing throughout the day today. Partly sunny. Isolated showers in the late morning and afternoon. Light winds becoming south around 10 mph in the late morning and afternoon. Chance of rain 20 percent.