Wow. Today can only be described as insane. Arrived to overcast skies, a large class out in the lineup and kind of murky-colored water with the kelp farther in than the other day. Seemed like it might be ok, but nothing too exciting. When we paddled out, the class had ended and we paddled to the outside lineup where just one guy was sitting. No more than a minute later, one rolled in and Max and I both turned and caught a sweet, long right all the way past the rocks with our hair still dry. WOO. We were already stoked. Caught so many sweet rights in spite of a crowd of foamies, Dads and sons, the teenage junior lifeguard girls from the other day. Today everything was chill and I was happy in the lineup, finding my own spot, feeling proficient, catching singular waves that went so fast and long. So many good ones. The best one was from the middle outside, caught with no one around me, turned hard right, pumped up and down, pulled high into the face, the curl zooming along by my face and I realized if I just crouched down, I'd be "in the tube" – well, it wasn't really a true barrel, but I did crouch down to get under it with my right hand lightly in the wave. The wave broke over my head, then I stood back up and tried to carve right even more to catch that next section. Rode that and finally, kicked out into the flat water just laughing. I'm yelled "woooooo" out loud. Total adrenaline and elation. That wave goes down as one of the best waves from paddle in to take-off to the actual ride, doing things and responding to the wave.
Non-stop slow-to-medium-to-larger sets that came through building on an increasing SSW swell. The tide was rising but the waves were just getting better. Max was getting so many waves on his Bruce Jones log. We were both stoked when our watches had counted 11 waves after an hour. Was getting so many waves, I consciously took a break at one point and let a set roll through and let everyone else get those. Then at the end one last one rolled in for me :) Give a little, get a little back. It's all good. Chatted with the Dad and his son, Ben. Catching a party wave with him and giving him encouragement and tips on how to go "more right." Fun. Also gave some tips to a guy who kept popping up too soon and falling off the back of the wave. Just told him to paddle a few more strokes and saw him catch one later on. I always wished on those days when I was new, that some of the better surfers would've given me some tips and cheer, rather than just kind of surf all around me. Today was one of those days of pure stoke. From the lineup to the waves, to the water. A slow or faster bump would rise and roll in perfectly shaped. Love watching that line break perfectly as you paddle back out after a ride. Near the end of the session, the biggest set of the day rolled through. As I paddled back out, the farther out, I went right over the biggest, most glassy, beautiful A-frame wave breaking.
We kept saying "one more wave!" but it was too good to leave. We stayed out for two hours until we had jelly arms. The Ripcurl watch was awesome today. Apparently my longest ride was 87 yards, almost as long as the one recorded in Waikiki at 121 yards. Top speed at 11.2 mph which beats LM.
Today's sesh will go down as one my most proficient ever: controlled take-offs, turning to go right, up and down the face, waiting then turning right to go around other surfers…timing was right on in every respect. Super special. To top it off, it was just like that for Max too, who also caught 18 waves :) What can I say, today was one my all-time favorite surf sessions. I'll be smiling to myself and remembering how it felt to be so close to that wave – walled up next to me by my face, almost in a tube, flying so fast – for a long time.
We realized later that night that this week, the last three times we surfed, we had around 33 waves each. What?! Amazing.
The only bummer of the day was that Max had a ding on the bottom of his board near the nose, probably from the rocks :(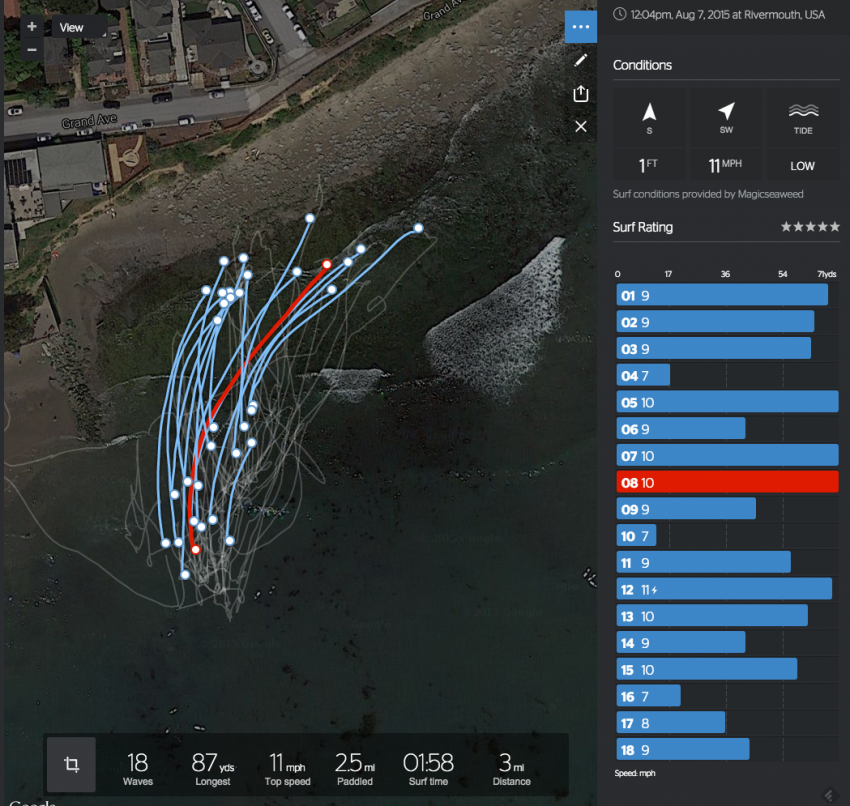 #420 / (2) / 2′ rising / 9′ green Mitsu
Afternoon Report for Santa Cruz: Small, steep S swell mixes with some minor NW windswell to offer knee-waist high surf for average exposed spots. Best summer magnets and combo exposures chest-head high or bigger sets on occasion. Expect some inconsistency due to the steep swell angle. Winds are light SSW now, but still allowing for smooth conditions. Tide rises to a 5.64′ at 5:11pm.
1-2ft
2ft at 14s SSW (198°)
0ft at 20s SW (215°)
0ft at 3s SW (224°)