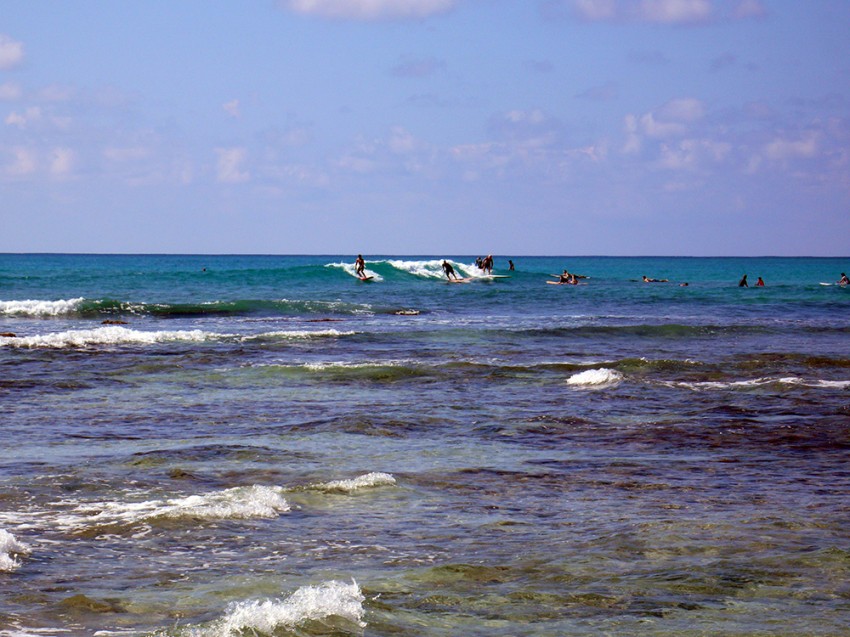 Woke up this morning and checked out of our room. The Honolulu marathon took place this past Sunday and the hotel's been fully booked, mostly with Japanese runners of all ages. We were in a room on the fourth floor with a solid concrete balcony and a dismal view of the roof and little else, so we were eager to switch. Happy to report we're now in a lovely room with an open lanai on the 7th floor with a view of the ocean, city and hills. We can even see one of the surf breaks on the distance!
After some coffee and food, we grabbed our boards and walked the five minutes over to Kuhio Beach, the spot to paddle out to Canoes. It was a sunny 80 degrees and not as crowded as usual, though the waves were pretty small.
I felt super strong and easily paddled the eight or so minutes to the outside break. Sat up on my board and watched a set roll through. Waited for the next one and went for the first wave, catching a short little ride before easing back onto my board. Because it's a reef break, and fairly shallow, it's critical to never bail off your board or you'll hit the reef. I still have a reef scar on my shin from surfing Ala Moana last June. These days, I'm in much better control and rarely go off my board during a session. I've also gotten really comfortable on the Mitsu and am starting to understand it's capabilities as a performance longboard. I caught a sweet long ride after waiting on the outside and going for the second wave of a set. Despite the small size, I paddled and caught the wave at the exact right moment and maintained momentum. I did a nice sloping left turn to avoid a kid on a board in front of me and when the wave eased up, I lay back down on my board and turned around. Ahhh.
After surfing for a couple of hours, the waves were flattening out. Amidst the mix of activity – sunbathers, people playing in the water, vacationers getting on the sailboat tour – Max and I sat on the beach and chatted about the rides we got and watched the surfers in the distance. Aloha.
#32 / 1:20 pm
[Smalll SSW swell providing some rideable waves with glassy morning conditions. Most spots have small waves in the ankle to shin high range with some inconsistent knee high sets at select spots. Light winds have returned providing typical side to offshore conditions for southern shorelines today.]
[Veggie pattie sub before; soft bean tacos after]