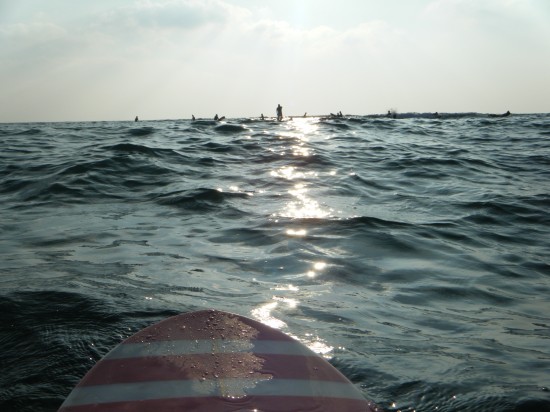 It was mostly overcast today, and breezy and cooler than the last week here in Honolulu. We had a rough night's sleep since we got to bed really late and the hotel was doing a random fire drill for their employees this morning, which meant that the intercom blasted on in our room multiple times with instructions and warnings in English and Japanese repeated twice each time. Nonetheless, we knew that once we got in the water, we'd be awake. I also woke up with a mysterious sore throat and had to suck down some sucrets lozenges, which helped a little. Maybe tomorrow I'll gargle with some ocean water :) We headed out for a mellow late afternoon surf at Canoes and stayed out until the sun was starting to set. The water temp was warmer than the air and felt sooo good.
[vimeo]http://www.vimeo.com/8234785[/vimeo]
Today's photos and short video were taken with our new Fuji Z33 waterproof 10 megapixel camera. We randomly walked into a camera store on Kuhio Avenue last night and the Fuji seemed perfect for shooting photos and videos while out in calm, warm water. It's light and small enough to fit into the small side pocket of my boardshorts. We'll probably still use the Hero 5 wrist camera when surfing with a wetsuit or in bigger conditions, but for some reason, the Hero 5 isn't taking photos and I can't figure out why. Also, it uses lithium AAA batteries and no one has those here in Honolulu, not even the camera stores. Anyway, the Fuji has twice the megapixels so we're going to keep using that for now. Back home, I usually take photos with my iPhone or Max's Panasonic Lumix before we surf, but here in Waikiki, there's no easy way to store a camera since we're on foot, so sticking the waterproof Fuji in my boardshorts is perfect. Hope I feel better tomorrow and get some sleep tonight. Either way, we're going surfing!
#33 / 3:30 pm
[Smalll SSW swell providing some rideable waves with glassy morning conditions. Most spots have small waves in the ankle to shin high range with perhaps a knee high sets at select spots. Light winds will provide glassy morning conditions with onshore sea breezes in the afternoon for southern shorelines.]
[Pasta and salad before]