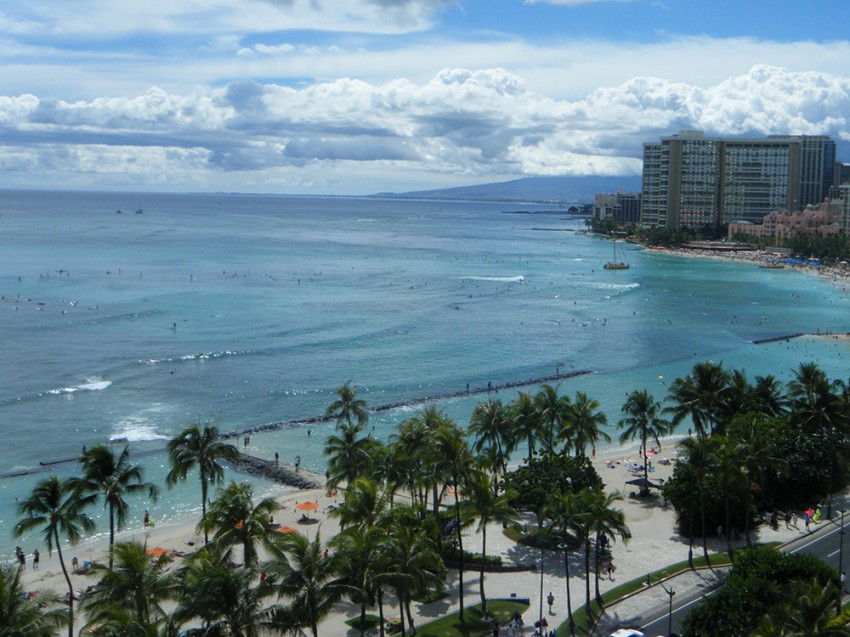 STOKED. Max and I both got two of our best rides this trip during today's sesh. Rented boards at the beach again (Max on a 10′ NSP and I had a 9′). This one was lighter and I was wishing I had the heavy Hobie from yesterday. Tried for several at the same lineup as yesterday and got a couple short ones but wasn't able to get waves as easily as yesterday. Realized I was obsessing over that and just said, whatever, focus on today's waves! Went over to Max's spot, which was more lined up to the middle tower. He was having fun and getting rides there. I got a good one but also almost got a board to the head when a girl came right at me as I paddled back out and I had to flip my board over to avoid getting smashed. An instructor was nearby and yelled to make sure I was ok. The girl apologized and it was all good, but I decided to move to a less crowded lineup. The area closer towards the Royal Hawaiian (lined up to the far left tower) seemed to have some well-shaped waves and less surfers. We both paddled over there. Turns out Faith Surf School was out and Tammy Moniz and another instructor were teaching a class. We were to the right of them and shared waves and for the first time, I felt some space and solitude in the lineup. Got a few fun short ones. Then I got a great one, paddled for it alone and caught it, made a steep sloping drop left and rode all the way left towards the Royal Hawaiian beach, across the length of three sections as I'd seen from the hotel lanai many times in the past week. Such a good wave. Then Max and I both caught another sweet left all the way in from the outside and when we ended our rides we were literally in the bodyboarding section in front of where we'd had lunch. Crazy long rides! So amped.
#241 / 3pm / 9′ NSP (the one with the cork top)
2-3′ @ 12 seconds SSW 192.