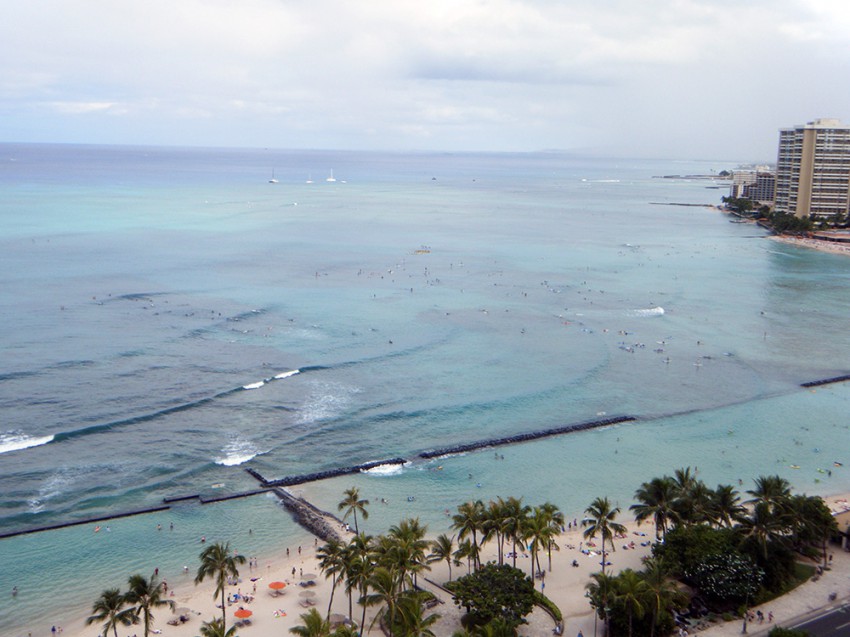 Surf check from the lanai again and it looked clean again as the SSW continues. Ate a PBJ and a banana and headed out. Feeling back in shape and paddled easily to the outside lineup. Got two quick short rides to start and then a nice longer ride with some turns. Fewer surfers out today which was nice and the first half hour was great. Then we had a bit of a lull, paddled closer in and waited. And waited. Then the lines started to roll in slowly again closer towards the left tower. The local with the Strive board and sun hat started catching those and Max and I paddled over there too. The waves were shifty and if you were off the peak by a little, you'd miss the takeoff. Waves were mere bumps when they started, then jacked up as it approached the next reef. Got a couple of short fun ones and paddled for several that looked like they would work but didn't. The last one could've been the best but the guy next to me didn't make the takeoff and his board hit my leg as I tried to get the wave but got pitched and held onto my board knowing Max was right next to me. My board still hit his knee and we went in after that to make sure it was ok. Still had a blast and stayed out for 2+ hours. Went to Tikis for exotic salads (shiitake "bacon" and bubu arare!) and smoothies afterwards.
#236 / 10:40 am / Mitsu 9'1
2-3′ at 11 seconds SSW 191.