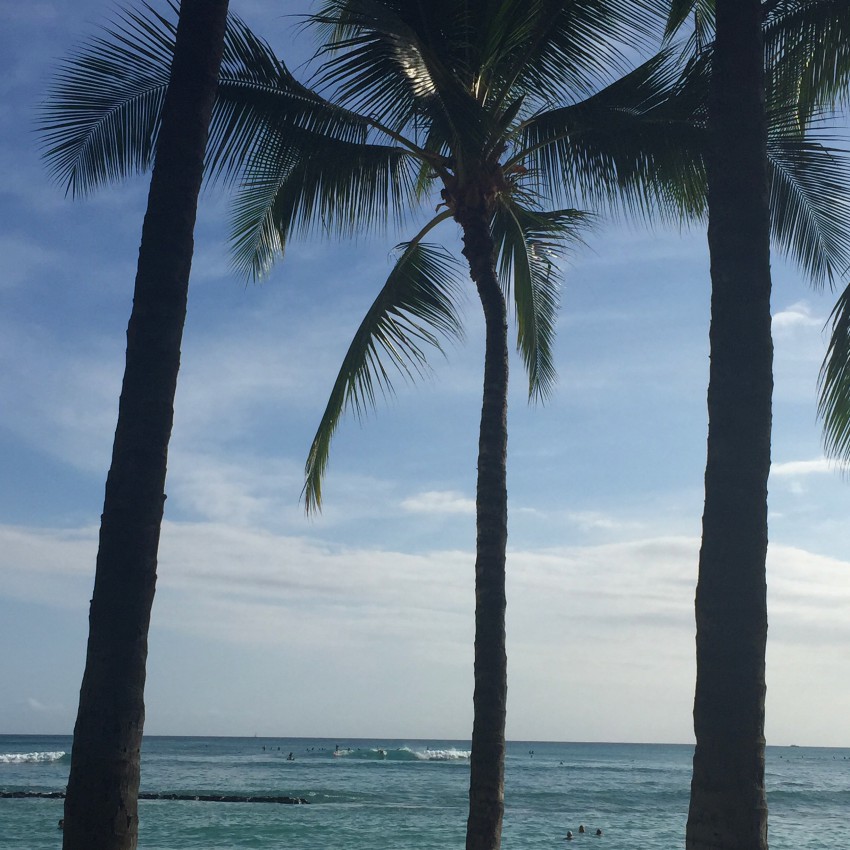 Got up later than planned but whatevs. Ate, got ready, and lazily made our way to the beach with our boards. When I went to drop off our bag by the trees, I saw a man running across the sand with a big beginner board in his hand and two teenagers behind him. He seemed familiar. Dark, curly hair, running… could it be Eric Haas?! The fact that he was wearing a long sleeve black collared shirt (with blue flower boardshorts) confirmed that it had to be him! I went back to Max and said, "I think I saw Eric Haas!" Max went up to the local surf shop lady and asked if he taught for the Beach Boys. She said yes and confirmed he was, indeed, Eric Haas. Max went up to him to say hi, and waved me over. He was super cool and normal. Said he had a friend named Mark that was a lifeguard at Ocean Beach in SF. He chatted and thanked us for coming over to say hi. "Have you surfed already?" he asked. "Ok, hope to see you out in the water." Running into Eric Haas on the beach in Waikiki as he was about to give a lesson (?!?!) = epic.
As for the surf, it was slightly smaller today but still so much fun. Clean and easy to catch inside and outside waves. Mostly lefts but I did get a sweet, long right from the outside of right tower. Got a bunch of fun, chill waves in a spot by myself on the outside of the sandbar. Wee. Lots of little lefts. Went to the outside and got some good, longer ones. Usually waited out the first wave of the set, letting it take most of the surfers, then went for the second or third wave. Lost track of Max after a while but we had a planned meetup time, so I wasn't worried. At the end, I managed to snag a long, outside right, that took me all the way into the beach. Sweeet. When I saw Max, though, the stoke got sucked away when he told me "blue boy is dead…" referring to his blue Mitsu, which had a giant chunk out of the nose :( A kid on a big epoxy board fell off his wave, shooting his board right into Max's. Agggghhhhh.
#401 / 12 (1) / 9'1 Mitsu
2-3 ft +- waist to stomach high occ. 4 ft.
FAIR CONDITIONS
Howzit, this is Kekoa with the report for Friday morning.
South Shore Morning Report: Slowly declining SSW swell still providing some fun surf to town shorelines this morning with light wind conditions on tap. Surf is in the waist high range with some bigger sets mainly favoring the channel entrances. Check our short term forecast as we are expecting another bump up in swell to start filling in later today into tomorrow. Mostly sunny in the morning, then partly sunny with isolated showers in the afternoon. Light winds. Chance of rain 20 percent.